Services
With a consistently high-quality standard, we are your reliable partner for all logistics, packaging and assembly tasks.
A qualified system monitors the climatic conditions.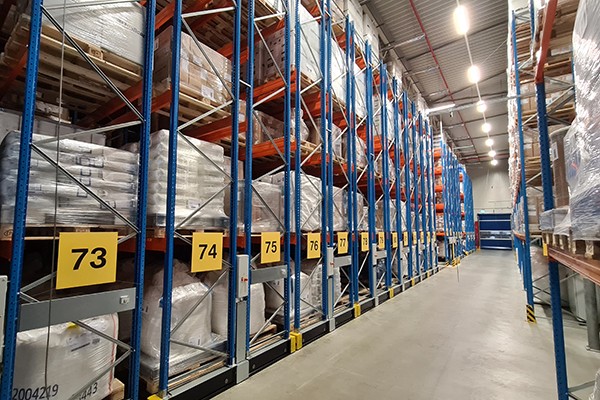 GMP-compliant storage on more than 20,000 storage spaces
Services
Pharma Logistics
Food Logistics
Manufacturer's authorization according to §13 AMG and GMP guidelines
Pharmaceutical products are sensitive and must therefore be treated logistically under special conditions. POPACK Logistik GmbH guarantees GMP-compliant storage in modern pharmaceutical warehouses. A total of over 20,000 Euro pallet spaces are available for this purpose in the temperature ranges from 2 to 8 centigrade and from 15 to 25 centigrade.
For the storage of humidity-sensitive products, which, for example, require a permanent relative humidity of 25 to 40% rH, a further 600 Euro pallet spaces are available in a separate air-conditioned area. Finally, POPACK Logistik GmbH has a manufacturer's authorization according to § 13 AMG for the secondary packaging of pharmaceutical products.
Packing and shipping of CORONA pandemic response equipment
Popack Logistik GmbH is responsible for the logistical supply of hospitals, corona test centres, medical care centres and pharmaceutical producers with corona protective equipment, sterile medical products and active ingredients for various companies.
Highest security standards
The climatic conditions are permanently monitored and recorded by a qualified monitoring system, the air conditioning systems are designed redundantly. Other security standards include nightly area controls, electronic intrusion alarm systems, camera systems, access controls.
Manufacturer's authorization according to §13 AMG and GMP guidelines
DIN ISO 9001 certification with an integrated HACCP
GMP-rooms
Services
Customisation, Labeling Printing
Individual solutions
We prepare products specifically for your target group. This service includes the labeling with appropriate language variants, warning notices or other content which is relevant for any approval processes. Additionally, our service also contains the printing of additional information such as the expiry date, batch or the date of manufacture.
Customization in the beauty & healthcare sector
Particularly when it comes to pharmaceutical products, there are special rules for quality assurance and reliability.
The special regulations that apply to the pharmaceutical sector (batch tracing, individually developed security and control systems) are valid in our company in other areas as well.
Services
Assembling
Contract Packing
Pharmaceuticals, drugs OTCs and medical devices
Hundreds of thousands of medicine packs have to be supplemented by hundreds of thousands of scoops. Millions of promotional kits for dentists, doctors, clinics and laboratories are to be packed and shipped. Do you want your clinical samples to be labeled for the test phase? Due to strict quality guidelines and the manufacturer's authorization in accordance with §13 AMG, we prepare your products in accordance with GMP for further use or dispatch.
Food and it's packaging
For example, for sales purposes a nice glass and a bottle should be presented as a whole. The neat glass should be "firmly" connected to the wine bottle in a way that is suitable for sale. Food packaging should be repacked in different batch sizes. Do you want to make the packaging more environmentally friendly? We ensure the perfect merging of several products, for the special effect and the implementation of your marketing ideas as well.  And if there is still no idea, we will be happy to advise you.
Cosmetics, Beauty & Healthcare
Do you want to add a special add-on to your product for the holidays, market entry, customer loyalty or special events? Your product, which is produced for the global market, should be made suitable for certain local markets and target groups? We process your products according to your ideas, even in small numbers and for one-off editions.
Services
Full Service, Marketing Shipping
Product sampling jobs for the dialogue with your customers
Are you looking to send your product samples throughout Europe to all businesses within a certain sector? If so, we can manage that for you. Our direct-marketing specialists are used to seven-digit volumes when it comes to customisation and dispatch.
Popack Logistik GmbH provides direct access to new markets and buyers by developing and implementing efficient direct-marketing strategies for product presentations, displays or pre-production batches.
We offer consultation services and perform all packaging and customisation tasks. We purchase advertising materials for you and look after the distribution of your products. In short, with us, your product sampling jobs are in the best hands.
To our services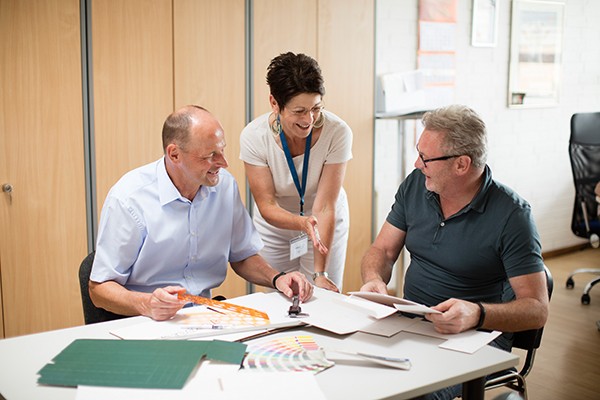 We implement just-in-time requirements using up-to-date technology.
Services
Picking
Fulfillment
Everything from one source
Popack Logistik GmbH creates direct access to new markets and customers by developing and implementing efficient direct marketing strategies for product presentations, displays or pre-series. We advise you and carry out all packaging and assembly work. We take care of the purchase of advertising materials and the distribution of your products.
To our services
Services
Hazardous Goods Storage
Quality and safety
In our hazardous goods warehouse, which was built in 2015 according to the latest standards, we can store various hazardous goods for our customers. Thanks to a variety of fire compartments, different storage classes can be stored in the temperature ranges from +2 to +8 degrees Celsius and from +15 to +25 degrees Celsius. The range of services includes storage in containers approved under traffic law (barrel, drum, canister, IBC). Picking and ADR/IATA-compliant preparation of consignments are also part of our daily business.
To our services
Services
Displays, sleeving, blistering, flow packing
Our know-how for your product presentation
We blister or skin, offer flow packs and procure the folding boxes, the display, the outer box or the corresponding accessories. And of course we will get it on the right track. In short: as an interface manager, we connect manufacturers, printers and point of sale (PoS). Your sampling campaigns are therefore in the best hands with us.
To our services
Our company
Since 1999, we have been offering full service at the highest level for our customers, which creates freedom for their core competencies. With a consistently high quality standard, we are your reliable partner for all tasks relating to logistics, packaging and packing. Especially when it comes to tasks that cannot be carried out by machines or only with great effort. What machines cannot do, we do perfectly for you.
Our company
About us
Since our foundation in April 1999, we have grown continuously. We have responded to the demands of the market and gradually expanded our business areas. To the benefit of our customers: Whether it is the packaging and commissioning of pharmaceutical products (manufacturers authorization according to §13 AMG available), promotion items or passenger service items for airlines, we accompany you in finding solutions. We are consultants, procurers, service providers and logisticians. We offer our customers full service to ensure that an optimal product is created and arrives at its destination on the desired date.
Our company
Sustainability: Popack's green points
Sustainable corporate management pursues not only economic but also ecological goals. This also includes a responsible look inwards, at the employees. Popack Logistik GmbH has employed an almost stable workforce since 1999. We are proud of our long-term and good relationships with our suppliers.
We see further opportunities for sustainable action in investments that conserve resources: We have installed economical LED lighting in our warehouses and modern and efficient heat pumps have been used for air conditioning since 2015. Systematic waste avoidance and separation are a matter of course in the company.
This is how we can help you reduce your carbon footprint:
To reduce the burden on the environment and conserve resources, we rely on certified suppliers and partners for the purchase and use of packaging and shipping materials and for all packaging aids, as well as on:
the preservation of the material cycle through recyclable packaging,
the use of climate-neutral packaging,
bio-based and biodegradable plastic packaging,
the use of materials made from renewable raw materials,
certified suppliers and waste management companies.
Where possible and sensible, we have greened our roofs: a green roof purifies water and air, contributes to biodiversity and, last but not least, helps to improve the living climate in urban areas.
Since 2015, a heat pump has been used for air conditioning.
Our company
Quality Management
Quality management at Popack Logistik is extensive and affects all internal processes. Our trained and TÜV Rheinland-certified quality officer takes care of the implementation.
Our internal procedures are described and documented in SOPs (Standard Operating Procedure). Training systems and certificates for both permanent employees and temporary workers are components of our quality management. This guarantees that all processes are carried out in accordance with GMP, DIN EN ISO 9001 and HACCP. If new requirements are added by customers, corresponding SOPs are supplemented, documented and trained. Our internal deviation reporting system guarantees that processes are always up to date and at their best. For this purpose, we have implemented a system for permanent process improvement (CAPA).
Regular self-inspections ensure that the procedures and workflows specified in the SOPs are understood and consistently implemented by all employees. Audits by customers and authorities to assess requirements and guidelines complement our system. Areas where temperature and humidity must meet certain requirements are monitored and evaluated accordingly.
Our company
Our history
The idea for founding Popack Logistik GmbH came up in the 1990s.
At the time, Andreas Popall was the managing director of a logistics company in the Rhine-Main area and recognised a great demand for customised services in the packaging sector. As a result, Popack Logistik GmbH was officially entered in the commercial register on 16 April 1999. Incidentally, the name "Popack" is made up of part of the name "Popall" and the "packing" that was the original business concept.
At first, only two employees were busy relabelling products on 20 square metres of production space. Just one year later, the production area at the Mainz-Hechtsheim site had to be expanded: Display construction and packaging were added. In the following years, packaging work was carried out for various customers, both in the frozen food and hazardous goods sectors. In 2004, the company's centre of operations was moved to Mainz-Marienborn: Popack began with packaging work in the pharmaceutical sector according to §13 AMG. For this purpose, a manufacturing room was set up in accordance with GMP guidelines with corresponding storage space.
After a construction period of 14 months and investments amounting to five million euros, the new logistics hall was put into operation at the end of September 2015.
The new logistics hall of about 3,500 square metres with mobile racking system can accommodate 9,000 additional pallet spaces. The company now has a total of 20,000 storage spaces. Popack Logistik GmbH employs over 50 permanent staff and almost two dozen temporary workers; up to 100 at peak times.
The Popack Logistik GmbH team celebrated the company's 20th anniversary in summer 2019 under the motto "family & friends".
In his address to the employees, Managing Director Andreas Popall recalled the early years of the company and thanked the staff for their dedication and commitment. The fact that consistent growth has been achieved over the years, even in an economic environment that is always changing and challenging, "cannot be taken for granted. Success is just a moment," Popall said.
Our company
Apprenticeship training
In focus: the future
Popack Logistik has been training apprentices ever since it was founded, even though it is "increasingly difficult to find suitable applicants for training as forwarding and logistics services clerks, office management clerks or warehouse logistics specialists," says Managing Director Andreas Popall. The fact that the training at Popack provides a good basis for the apprentices' future careers is underlined by the award for "Exemplary Commitment in Vocational Training" presented by the Rheinhessen Chamber of Industry and Commerce in November 2012.
Downloads
You will find the downloaded files in your download folder.